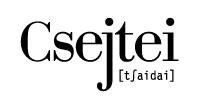 Our House
"Located in the centre of Feldbach, the Hotel Csejtei stands as a clear reflection of the history, character and geniality of the Vulkanland region – close to Riegersburg and Schloss Kornberg and many of the focal points in the culinary and cultural development of this region, and near to a variety of fascinating tourist attractions in the Vulkanland region.

The town centre of Feldbach is reached easily by foot, and the A2 motorway is just 20 minutes' drive away. It is, however, not just its unique location that makes this hotel the ideal choice for holidaymakers and business travellers.
The bright and comfortable design of the interior is constantly being updated. The hotel has 27 rooms, including 6 apartments, spread over three buildings, either interconnected or reached via a courtyard. The traditional or elegant design of the hotel rooms includes individual decorative furnishings; beds and seating are ideally designed for relaxation in the evenings.

The restaurant seats 45, the lounge seats 16 and you can also eat outside at the tables under the chestnut trees during the summer. We are happy to arrange trips for our guests to the special attractions in the Vulkanland area and to organise a visit to a 'Buschenschank', the traditional and rustic wine-producer's inn typical of this region."
Our Cafe
Our small café is a central meeting point for Feldbach society. Many locals come in the morning to meet up with friends, for a quiet read of the newspaper, to do business, or for a cup of delicious Meinl coffee - an energy boost for the rest of the day.
Our Hotel
We are proud of the high praise we've received from the Michelin Guide, which has rated us ever since its first Austrian edition. Apart from our traditional rooms, we sought to gather a variety of impressions and blend these into a very special atmosphere, a feeling of home. Steamed acacia parquet flooring, Dieter Knoll beds, and wonderfully comfortable, classic seating designed by John Hutton reflect this cosy ambience. All rooms have free-of-charge WLAN access.
Our Restaurant
The wonderful aroma of schnitzel straight from the frying pan, traditional Hungarian goulash, veal escalope in a sauce of fresh herbs or wild chanterelle mushrooms. Many of our vegetables and fruits are homegrown; we start with the freshest ingredients and make them even better. The key concept in our cooking: keep it local and seasonal.
(C) by Hotel-Csejtei - Feldbach | made by kmkg.org
A-8330 Feldbach / Ungarstraße 12 Tel. +43 (0)3152 / 22 05 Fax +43 (0)3152 / 22 054 E-Mail info@hotel-csejtei.at